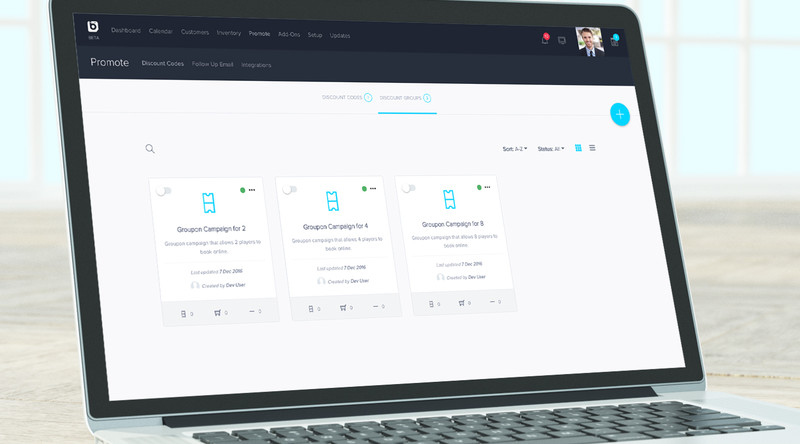 7th December, 2016
'Promote' section update - Creating and managing discount codes just got way better!
Offering promotions to your customers is a huge driver for boosting online sales for your business. Check out our new discount code update, available now!
The possibilities are endless
We have always strived to offer our customers extensive, customisation capabilities and we aren't stopping now. We have expanded this practice to our new discount code update, including a wealth of additional settings and conditions, such as:
- Choose redemption values - fixed amounts, percentages, number of booking spaces and more
- Specific dates and times can be set for when a code can be redeemed with a booking
- Specific booking slots/periods can be assigned to a discount code
- Limit usage by count of bookings or customers
- Use our 'spaces' options to create codes such as "Buy 1 get 1 free"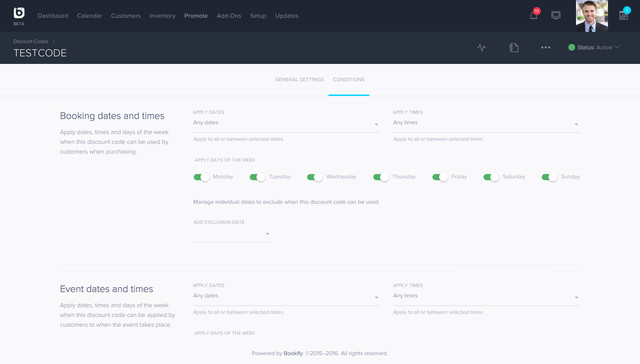 Categorise your codes - perfect for daily deals
Our new discount groups section will allow you to manually upload multiple codes into a folder. Settings applied or edited to this folder can update all discount codes within. This feature will come in handy for our customers who use daily deal companies such as Groupon, Living Social, Wowcher and similar discount businesses. Easily create multi-use codes to allow customers to use a discount code for a fixed value as many times as they like, until the balance has been fully redeemed. Need to edit an individual code in a folder? Simply, select a code in the folder and edit as you would a general discount code.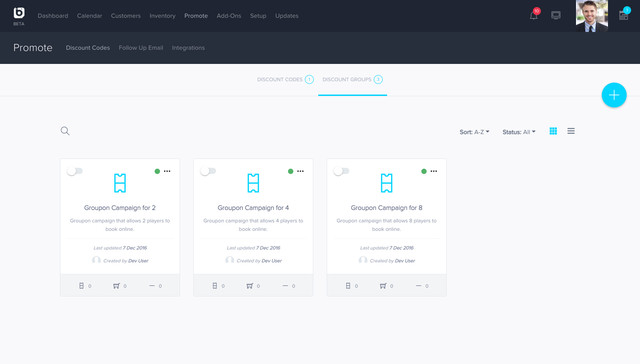 Slicker and quicker
This update introduces our new vision for Bookify. We know how hard you work, and here at Bookify, we want to make things as easy as possible when managing your bookings, promotions and everything else, when using our system. You can now manage multiple codes using our new multi-select tool. Duplicate, change the status or delete multiple codes in just a few clicks. It really is that simple. We have updated our forms too, providing a fresher look with more on-page help to guide you with managing your promotions efficiently. We plan to roll out our new vision to all areas of Bookify, with a lot more new features, coming in the new year. We look forward to sharing them with you.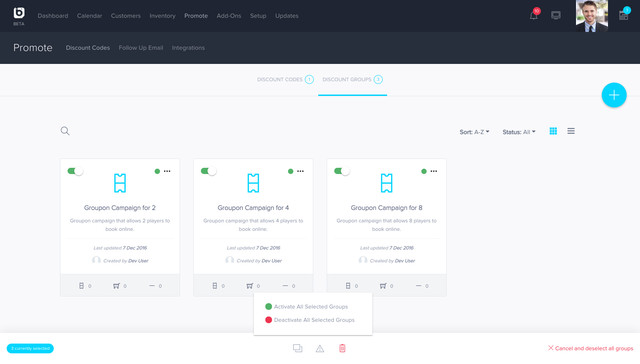 Ready to get started with Bookify?
Get started today for a 90 day FREE trial at launch and join hundreds of companies who book better online with Bookify. No commitments and no credit cards required until after your trial.
No credit card is required for you to start your FREE trial. Cancel whenever you like.