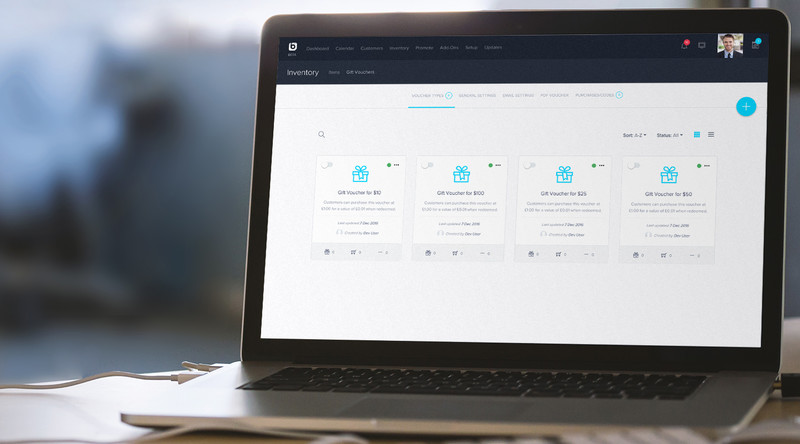 7th December, 2016
Gift vouchers update - Boost sales with gift vouchers and Bookify. Perfect for the holiday season!
Introducing our new gift voucher system, just in time for the holiday season. This update has been created to give you more options, settings and customization selling gift vouchers and generating more income for your business. Learn more below.
Create new voucher types
Create voucher types for your customers to choose from. This will include how much the voucher is when purchasing, as well as how much the gift voucher value is worth. We have also thrown in some further settings and conditions for you to apply when vouchers are being purchased and/or redeemed.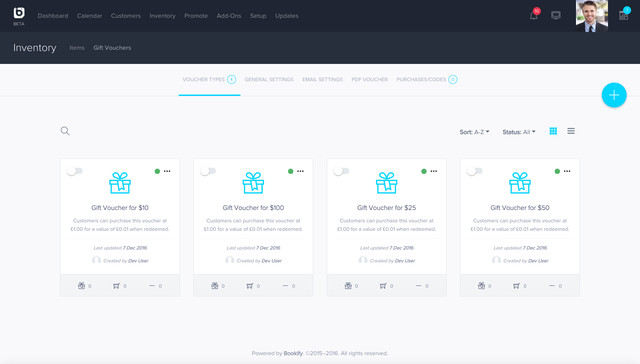 Sell and redeem, straight from your booking site
Customers can purchase and redeem gift vouchers, all from your booking site. They choose the voucher value they wish to purchase, include a personalised message if they like and even forward vouchers to a loved one. Vouchers can be redeemed any time on your booking site, before the expiry date you have set of course. If there is a balance remaining, you can decide if customers can use the rest of their balance or if vouchers are a one-off deal. Creating vouchers in your admin is very easy too. Simply create a transaction to accept payment or manually add a one off code, for any other circumstance.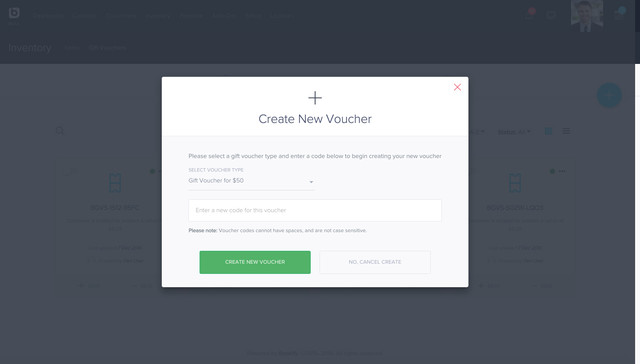 Customizable emails and PDF vouchers
Why not personalise your gift vouchers? We have included additional options for you to brand your own gift vouchers emails, as well as attach gift voucher PDFS with your own design. Available for your customers and the recipients to print and download. We have even provided some templates for you to quickly create your own designs and swap them out with our own. Your customers can make each gift voucher unique by adding their own personalised messages for their family and friends.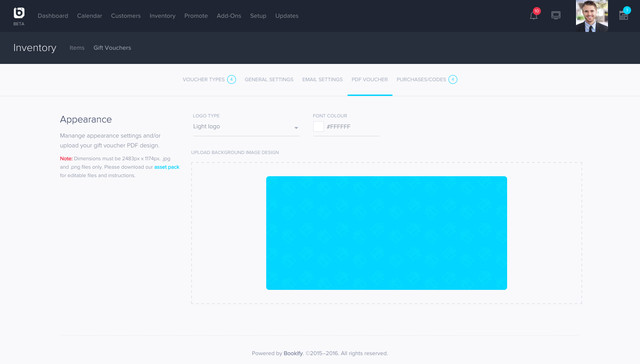 Manage purchases and redemptions
With our new update, we have made it easy for your to manage gift voucher codes that have been purchased, partially redeemed or fully redeemed. Need to edit individual codes settings? No problem, change the value remaining, expiry date and even forwarding options for every, individual gift voucher code. Resending gift vouchers to the buyer, recipient or even a custom email address is simple too.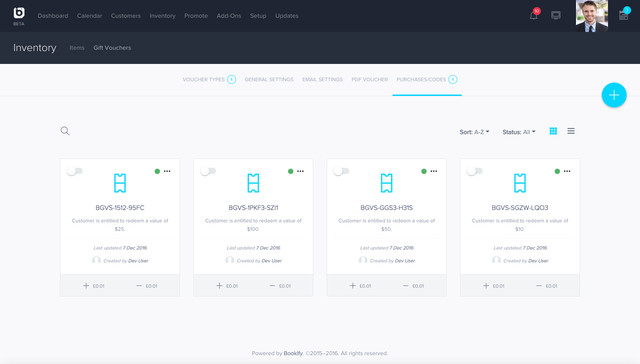 Slicker and quicker
We know how hard you work, and here at Bookify, we want to make things as easy as possible when managing your bookings, gift vouchers and everything really, using our system. This update introduces our new vision for Bookify.
You can now manage multiple voucher codes using our new multi-select tool. Duplicate, change the status or delete multiple voucher codes in just a few clicks. It really is that simple. We have updated our forms too, providing a fresher look with more on page help to guide you in managing your promotions efficiently.
We plan to roll our new perspective to all areas of Bookify with a lot more new features, coming in the new year. We look forward to sharing them with you.
Ready to get started with Bookify?
Get started today for a 90 day FREE trial at launch and join hundreds of companies who book better online with Bookify. No commitments and no credit cards required until after your trial.
No credit card is required for you to start your FREE trial. Cancel whenever you like.