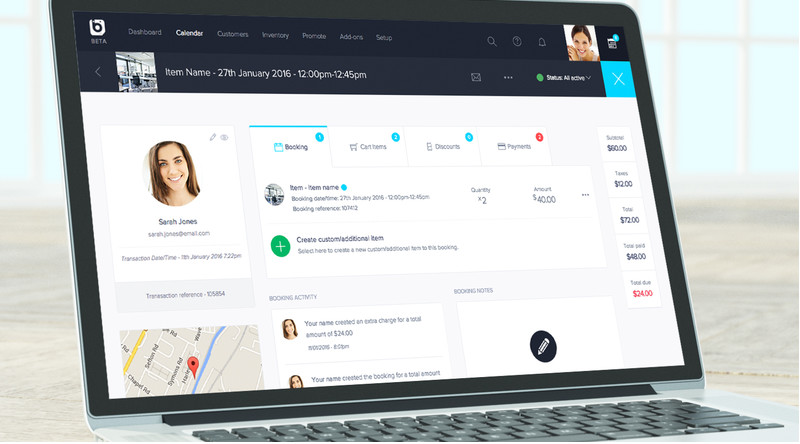 2nd February, 2016
Bookings update - Managing bookings reimagined
Take control of your bookings with our easy to use booking overview page, all loaded in on your calendar. With our slick new layout, viewing or editing booking information has been designed to be easy and quick to help you save more of your precious time.
Quickly toggle between bookings, discounts, payments and customer information. Reschedule or cancel your bookings with a few clicks of a button. Keep track of your payments to make sure not a single penny is forgotten.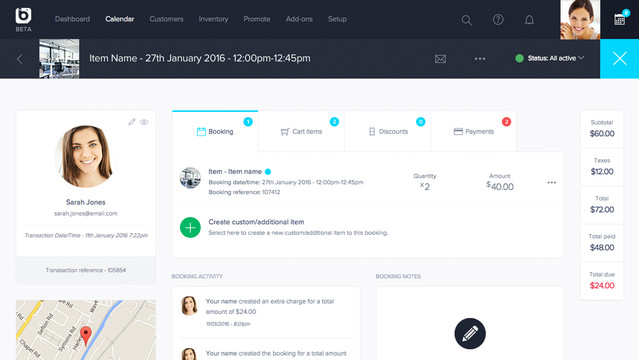 Coming soon, adjusting your bookings will be easier too. Add additional guests above the maximum required or override the booking price if need be. Bookify will take into consideration all taxes, discounts and more so you don't need to.
Need some reminders? Our activity widget on each and every booking will keep track of you and your staff so everyone can collaborate as a team. Add quick notes too, just to make sure you have covered everything, including any special requirements for your customers to help keep on top of your already outstanding customer service.
Ready to get started with Bookify?
Get started today for a 90 day FREE trial at launch and join hundreds of companies who book better online with Bookify. No commitments and no credit cards required until after your trial.
No credit card is required for you to start your FREE trial. Cancel whenever you like.